Tehnical specifications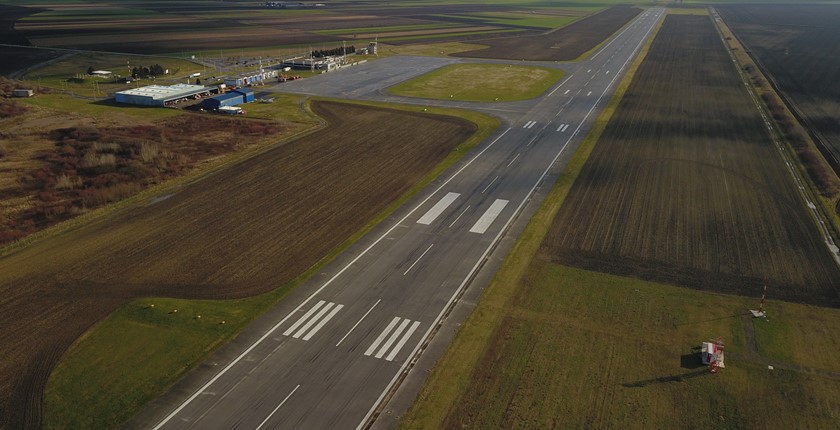 Osijek Airport operating hours according to NOTAM:
More information at:
        +385 31 514451
        +385 31 514402
Orientation and distance to the city: 20 km southeast of Osijek
Altitude: 290 ft (88 m)
Reference temperature: 27 °C (August)
MAG VAR/Annual change: 4° E (2012) / 0.1° increase
SITA address: OSIAPXH
IATA code: OSI
ICAO code: LDOS
ICAO class: 4D
Airport coordinates: 452745.60 N; 0184836.56 E
Characteristics of the runway:
    Length: 2500 m
    Width: 45 m
    Orientation: 111° / 291° (11/29)
    Material: asphalt (2500 m)
    Pavement classification number: PCN 70 F/A/W/T
Approach lighting:
    11 ALS 420 m SALS, PAPI 3°
    29 ALS 900 m ALPA-ATA, PAPI 3°
    Airport lighting:
    Lighting of thresholds, the end and the edge of the runway, connectors and apron.
    Apron lighting with four floodlights on 25 m pillars, 9 x 400 W
Type of traffic permitted: IFR/VFR
Communication services of HKZP:
    APP 118,800 MHz
    TWR 118,800 MHz
Radio navigational equipment and landing apparatus:
    L ID: CE Frequency: 372 KHz
    NDB ID: OSJ Frequency 422 KHz
    ILS CAT I
Winter equipment / Deicing equipment:
    Snow plow truck
    Power brooms for snow removal
    Snow blower
    Urea spreader
    Aircraft deicing
Fuel/oil types:
    JET A1, AVGAS 100LL
AD firefighting category:
    Within AD HR: CAT IV.
    On demand up to CAT VII.
Surface and PCN of the apron:
    Surface: 300 x 90 m, asphalt
    Pavement classification number: PCN 70 F/A/W/T
Contact:
    E-mail: opc@osijek-airport.hr